Master Chord Studio
This time its an underground venue for our latest console. Owner Michele Catri has installed an SL4040 in this new independent north London studio. https://www.masterchordstudio.com/about-mcs/
Decoy Studio
Yet another beautiful location for one of our SSLs. Cenzo Townshend installs a tailor made 6056G.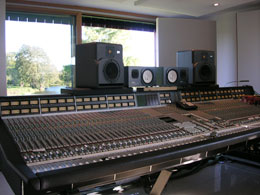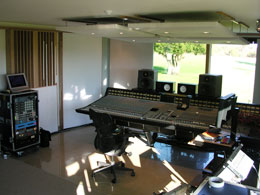 Grand Upright Studio
Our second Jersey console, (and there are only 2 SSLs on the island), was an immaculate custom built 1998 G+ 242 EQ.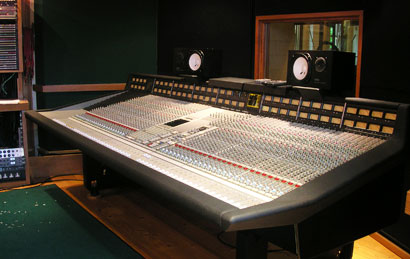 Leeds College of Music
LCM have chosen to install a Recycled Audio short loaded 4032G series SSL in their newly build studio.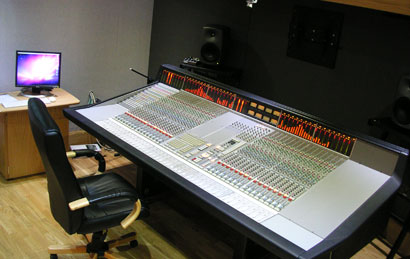 A Dark Tale
Mofo Music – Jetro Vanio, Jesse Vanio, Kalle Tomiainen, Ville Pusa
In order to deliver these guys a large console to fit in a limited space, on a tight budget, we built a 56 channel ½ black G series, ½ E series, Nordic VUs beautiful thing, with all black EQ and narrow centre section.
Black room, black desk, black EQ , Finnish designer style – all in all a very classy studio.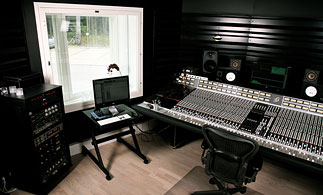 A Passion For Analogue
Vincent Helbers – producer, beat maker, and keys player
Vincent's genre is Broken Beat and he says "if it is broken don't fix it", however we didn't apply this mantra to the console itself.
He came to us looking for a console but also needed help to integrate his huge collection of analogue equipment and was pondering the possibilities of procuring, installing and running analogue multi-track.
We provided a lovely 56 channel, ex- Paul McCartney desk with oak trim, to which we added black EQs and then arranged for Peter Higgs to do a full refurb on 2 x Studer A800s.
A Tall Order
Mark "Spike" Stent (producing and engineering credits include: Massive Attack, Madonna, Dave Matthews, Oasis, Hard-Fi, Keane, Craig David, Bjork and and …)
Spike contacted us with a very specific requirement. Having used a Duality and a small 6000 series SSL in his home studio for a while what he really wanted was to replace these with a large SSL 6000G (definitely not a G+), with ideally 72 channels, VCA (not Ultimation) faders, VU meters, so that's exactly what we built for him.
Alex Dromgoole
Quote from Spike on delivery: "worth every penny, its absolutely beautiful and better than anything I'd imagined".
A Room With a VU
Ray Hedges, (producing and writing credits include: Take That, Boyzone, Lil Chris, B*witched)
The studio is often filmed so the console cosmetics were a priority. Ray knew what he wanted and it wasn't the Icon that was sitting in his studio nor was it just anything from the second hand market.
To match a very specific list of requirements we built Ray an immaculate SSL 6048 G series, with additional producers bay, articulated monitor arms (one for Pro-tools, one for Logic), custom metering. We also undertook the studio wiring installation to create the very flexible and versatile creative environment that Ray was looking for.
"I love this desk, it's absolutely fantastic, I'm really glad we found you guys" Ray Hedges.
We'd never seen an SSL with such a lovely view.
1992 SSL 6048G – studio installation also by Recycled Audio Ltd
A Build on a Budget
DJ Desue (Hashim Elobied) Highly known as the hottest, hippest and most successful producer in the German hip hop scene Desue is one of the driving forces behind the Streetlife Entertainment brand. In 2005 Desue started the Streetlife broadcasts show on Kiss FM, the station for black music in Germany.
Hashim originally bought his 1981 4032 SSL console from us to produce his Kiss FM broadcasts but since then has gone on to record several albums and since installation in Dec 06 the console has been in constant use. From experience we know what needs replacing on one of these to bring it back to top condition, the age of the console did not concern us and we were happy to offer our 90 day warranty. At the end of the period he found a couple of small problems but when we suggested a warranty visit Hashim's response was "no thanks, I've isolated the faults and I just need you to send me 2 tiny chips (semiconductors) and I'll plug them in myself".
1981 SSL4032, fitted with black EQ.