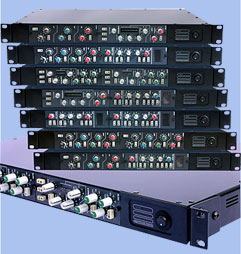 EQ rack – 2 x SL502 pre–owned cassettes (balanced)

P.O.A. as this depends on the availability of cassettes.
Our most popular rack is built using the SL502 EQ. The 502 has a circuit design similar to the famous 4000 series black (242) EQ with a bottom end that has also been compared to the Neve V/Prism series, we have found it to be very popular with studios who want to add a flavour of SSL to their setup and mastering engineers who love the accuracy and precision of the SSL5000 series. We believe that ours are the only units on the market which are constructed using genuine SSL hybrid balancing/ unbalancing stages, bus cards, cables and connectors taken from the original console.
The majority of cassettes you will find on the market un-racked were taken from consoles where they were installed in a channel strip, this means that the balancing stages were contained in the input/output module.
SSL consoles are renowned for their audio quality, reliability, and ease of maintenance, and we have chosen to build our products this way so as not to compromise on any aspect of these high end audio tools.
Construction:
Mono 4 band parametric EQ

Balanced XLR i/ps and o/ps

Selectable mains voltage (230V or 110V), external power supply

Tough, classic style, satin black powdercoated metalwork

Removable rack ears enable unit to be rackmounted or freestanding
These racks have the same buscard and cassette guide system that SSL used in the original console. Therefore the modules can be simply removed from the front of the rack allowing easy maintenance should you ever need to.
Insured postage £20 within the UK, £35 flat rate to European mainland, other destinations please contact for postage quote. If you are local to our area or passing through Oxfordshire we are also happy for buyers to collect. For other cassette versions please contact us for availability and pricing.